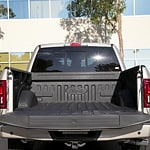 For more than a decade, the Ford F-150 has been the most popular of full-size pickups. Its popularity is owed in part to its impressive build and performance capabilities. However, its technology also makes the F-150 from Ford a top seller among pickup truck buyers.
The technology found in the new F-150 comes from Ford's integrated Co-Pilot 360 system. This system features blind spot monitoring that lets you know if or when it is safe to get over or pass traffic ahead of you. You avoid colliding with traffic in your blind spot. It also has emergency braking capabilities, which slow you down and prevent you from colliding with other traffic and object after a collision. It applies the brakes when you cannot because of an accident.
Finally, Ford's newest F-150 has lane keeping assist, which keeps you in your lane of traffic. It alerts you when you drift out of your lane.