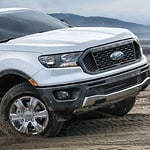 Looking for a top mid-size pick-up? Then you will want to take a look at the new Ford Ranger. This is the mid-size truck that has been designed with lots of capability and comfort in mind.
When it comes to capability, the Ranger features high approach, break-over and departure angles that allow the truck to handle most off-road situations. This makes the mid-size Ranger a real all-terrain vehicle. The Ranger also delivers when it comes to comfort with its SuperCrew cab configuration. This spacious cabin can accommodate up to four passengers in complete comfort. Also, the cabin is designed with many internal cargo areas to safely store your gear.
You will find a wide selection of the Ford Ranger at Woltz & Wind Ford. Our inventory includes all trim levels of the Ranger in many different popular configurations. Visit us today, see our inventory and take a test drive. We look forward to saving you money on your new Ranger.