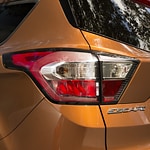 A vehicle has to be able to do its job. If you can't rely on your automobile, then it's essentially just a 2,000-pound piece of junk. That's why capability is such an important aspect of vehicle design. Without manufacturers ensuring their compact SUVs could get the job done, the Ford Escape would never have come into being.
The Ford Escape has a number of capability features worth mentioning. With four different engine options, this vehicle definitely works hard to satisfy whatever your vehicular needs might be. The Escape also delivers this beyond engine choices with the inclusion of selectable drive modes. These drive modes make it easy to adjust your Escape's drivability in different environments and terrain.
To see exactly what different engines and drive modes can do for you, our team here at Woltz & Wind Ford invites you to come test drive the Ford Escape for yourself and see what all the fuss is about.