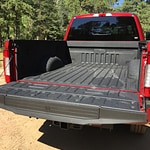 If you are looking for a pickup truck that can perform for 200,000 plus miles, the Ford Super Duty might be the fit for you. How is Ford able to build a truck that can take a licking and keep on ticking over the long haul? The answer to this question is found in the durability features that come standard on this popular heavy-duty pickup truck.
Building cars that are tough is in Ford's DNA. The Super Duty is the only truck in its class that comes equipped with military-grade aluminum alloy used in the body. The frame of this heavy-duty truck is made with 95% steel. Ford has also tested the Super Duty over 20 million miles to make sure that it can withstand the rigors of daily use.
Drop by Woltz & Wind Ford today to check out the quality craftsmanship and special features that make Ford's Super Duty so dependable.