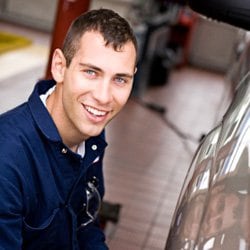 Find the Right Parts for Your Ford in Heidelberg, PA
If you are looking to find quality parts for your car, Woltz & Wind Ford has just what you need. We have a large variety of superior Ford components in stock for models of all kinds, including popular Ford sedans, crossovers, and SUVs. Whether you are searching Pittsburgh, PA for a replacement side mirror for your Ford or you need to have a more major part like the transmission replaced, don't hesitate to let us know what you are searching for, and our staff will equip your Ford with all the components and accessories that it needs.
Quality Ford Parts
Bethel Park, PA Ford owners can buy parts for their vehicles confidently at our dealership, which carries premium Ford components for Ford vehicles of all kinds. You may be wondering what the advantage is of getting a part from Ford when you need to replace a component on your car or service for your Ford. When you buy a part from Ford you will be getting a part called an original equipment manufacturer component, or an OEM part.
An OEM component is a part that is made exclusively by the auto manufacturer. That means it is designed to be an identical part to the one that needs to be replaced. Quality parts from Ford come with a warranty, which is not an assurance that you'll get when you buy a component from a third-party seller.
Parts at Our Dealership
Along with getting all the right parts that you need for your Ford in Bridgeville, PA, you'll want to make sure that you are buying the part from a place you can trust. Fortunately, our dealership provides you with peace of mind that you are getting premium components from a reputable seller. We have a friendly and welcoming staff on hand to answer any questions that you have about your Ford's parts too, and we can help you select whatever accessory you need. Be sure to consider our auto parts specials, you just might find what you need at a price you love.