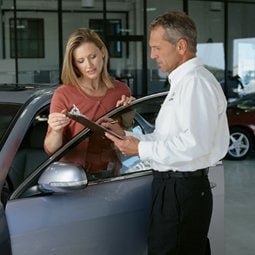 Why Servicing Your Ford Vehicle Is Important
If you've recently purchased a new or pre-owned Ford model, then congratulations are in order! Not only are you getting one of the most popular vehicles on the roads of Pittsburgh, PA, but you're also getting the one of the most reliable. Ford is known for its innovation as well as its dependability and capability. Let's not forget that Ford is known for high performance vehicles as well.
One of the key elements of taking care of your Ford vehicle is regular maintenance. In order for your Ford to perform at its best, you should make sure to come into Woltz & Wind Ford for routine maintenance as well as any repairs or recalls that you may need to address. When you use our service department in Heidelberg, PA for regular maintenance, you can rest easy knowing that our technicians specialize in keeping your Ford running properly. Plus, we use only authentic OEM parts.
You might be wondering why you should rely on us for your maintenance in the Bethel Park, PA area. First, our service technicians have been specifically trained to work on the unique power train of the Ford family of vehicles. Our techs are ASE certified, and our highly knowledgeable staff will take delight in making sure your Ford vehicle runs as it should. We take pride in our ability to keep your vehicle running for many years and many miles to come around Bridgeville, PA.
Another reason to choose regular maintenance and repairs at your local Ford dealership is our vast stock of Ford performance parts for any and all Ford vehicles. Taking your vehicle for service at just any oil change shop or a local mechanic in the Heidelberg, PA area could result in their procuring the wrong part for your vehicle, or improper servicing of your vehicle. Our service techs at Woltz & Wind Ford will utilize our stock of genuine Ford parts in order to make sure any process is carried out correctly and with the proper parts.